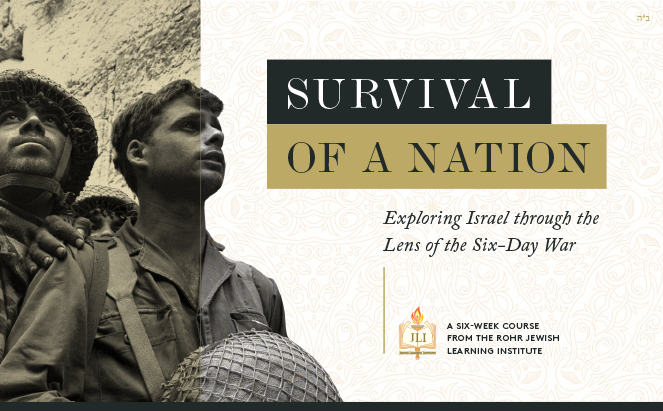 The fifty year anniversary of the Six-Day War provides an historic opportunity to discover what Israel means to us today. More than a history, it is a course about connection; understanding our connection to our land, to our people, and to our heritage through the prism of the events and themes of the Six-Day War.
 

 Join us for Six Wednesdays 
Starting May 10th
7:45 PM - 9:15 PM

 LOCATION: 
Chabad Center of Kendall & Pinecrest
8700 SW 112 Street,
Miami, FL 33176 USA

 FEE: 
$100

Multiple Signups Special:
10% off per student with minimum 2 signups

For more information:
Call: 305-234-5654

 

 JEWISH 
 HOMELAND 

If Judaism is a religion of ideas, why do Jews care so much about land?

 ANTI-ISRAEL 
 SENTIMENT 

Why does Israel perpetually raise the ire of the entire world?

 PREEMPTIVE 
 STRIKES 

What are the ethics of preemptive strikes and collateral damage?

 CIVILIAN 
 CASUALTIES 

How should Israel protect itself against an enemy that hides behind human shields?

 

 CAPTURED 
 TERRITORIES 

What should Israel do with territories captured during the Six-Day War?

 LAND 
 FOR PEACE 

What lies at the heart of the land-for-peace debate?